New Safety Scalpel Mimics Feel and Function of Traditional Scalpels
August 11, 2017
By: Adeline Yi, Anzen™ Product Manager
Our last blog post reported on surgeons' inability to find a safety scalpel that they could use with confidence. National surveys show that surgeons are resistant to adopting the use of safety scalpels because they've been unable to identify an acceptable model.
In response to the models they'd tried, surgeons criticized the feel of the safety scalpels; specifically, their weight and balance. Some safety scalpels obstructed their line of sight, they reported, and some had safety sheaths or activation methods that were difficult to manipulate.
Designing the ideal safety scalpel
In developing the new Anzen™ safety scalpel, MediPurpose worked closely with surgeons and surgical techs, inviting their input and incorporating their feedback. Surgeons made their specifications clear. To meet their criteria, a safety scalpel would need:
The same weight, balance, and sharpness as a traditional non-safety scalpel

A shield that does not obstruct line of sight

An easy-to-operate blade that can be exposed or concealed without looking at the scalpel

A safety mechanism that can be operated single-handedly—with either hand
An intuitive design with a familiar feel
In response, the Anzen™ safety scalpel was engineered with a reusable, stainless steel handle. That gives the Anzen™ scalpel a weight and balance that is similar to a traditional scalpel, so that surgeons will feel comfortable with its familiar feel and control.
The Anzen™ scalpel has a protected blade that is easily exposed and retracted with one hand. Surgeons find the mechanism intuitive, because it exposes and retracts the blade like a familiar box cutter. In addition, its slim cartridge design allows for an unobstructed view of the incision site.
Key safety measures have been incorporated into the design of the Anzen™ scalpel. A disposable cartridge integrates the slider, shield, and sterile blade. The protected blade stays retracted while attaching and detaching the cartridge. A cartridge lock prevents blade exposure unless the cartridge is attached to the handle, and another lock prevents cartridge detachment when the blade is exposed. The blade is exposed/retracted by DEPRESSING the button BUT the cartridge is detached by LIFTING the release tab so the surgeon will NOT accidentally detach the cartridge.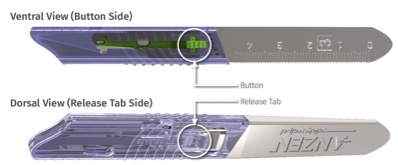 Disposal has been made safer as well. The Anzen™ cartridge can only be disposed when the blade is retracted, and the cartridge locks again for disposal.
MediPurpose designed the Anzen™ safety scalpel to mimic the weight and feel of a traditional scalpel, but with the features needed to help protect healthcare workers from sharps injuries. Mirroring the standard weight and feel was critical in order to create a scalpel that surgeons could transition to seamlessly. The company expects that surgeons' acceptance of the Anzen™ scalpel will help operating rooms across the country meet safety standards and reduce sharps incidents.
For more information, visit www.anzenscalpel.com