Survey of OR Nurses Reveals Startling Rates of Scalpel-Related Injuries
June 1, 2017
By: Patrick Yi, CEO of MediPurpose
From their vantage point in the operating room, OR nurses see everything—including a startling number of injuries from sharp instruments. A new survey of more than 200 nurses revealed that fully 83% of OR nurses had personally witnessed a scalpel-related injury. Of those injuries, 36% happened to the nurses themselves, while 41% were incurred by surgical techs, and 23% by surgeons.
The survey was conducted by MediPurpose at the AORN Global Surgical Conference and Expo in Boston, April 1-5, 2017, which drew nearly 6,000 attendees. AORN is a non-profit membership association that provides nursing education, standards, and clinical practice resources for its 41,000 members.
Nurses know about safety scalpels, but their facilities don't use them
Seventy-seven percent of survey respondents said they were aware of the existence of safety scalpels, and 44% had personal experience using them. Yet only 33% reported that safety scalpels were used at their facility.
This disturbing statistic is consistent with other reports that—despite being mandated by the Needlestick Safety and Prevention Act of 2000—safety scalpels have not been adopted by most operating rooms. In the years following that legislation, sharps injuries in nonsurgical settings dropped by almost a third, while injuries increased by 6.5% in surgical settings 1.
Does your facility use safety scalpels?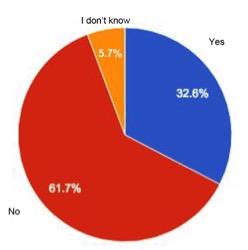 Why don't more facilities use safety scalpels?
The MediPurpose survey suggests that most facilities appreciate the importance of using safety scalpels: only 13.4% of respondents said their facility "does not recognize the value of/need for safety scalpels." Instead, respondents attributed their facility's failure to adopt safety scalpels to:
Being generally resistant to change (33.5%)

Being slow to adopt new technology (23.4%)

Having been unable to find an acceptable safety scalpel (29.7%)
Surgeons' beliefs may also be a barrier to adopting the use of safety scalpels. According to medical literature, surgeons in the past have sometimes objected that safety scalpels feel too light or flimsy, don't fit their hands well, cut poorly, or obstruct their view of the incision 2.
Surgeons, techs, and other staff reveal similar concerns
Data from the AORN survey echo results from other research the MediPurpose team has been conducting at conferences across the world. In May 2016, at the Ambulatory Surgery Center Association's (ASCA) annual meeting in Dallas, surgeons, surgical techs, directors, finance/purchasing personnel and administrative staff were questioned about safety scalpels. In response:
69% said they had witnessed a scalpel-related injury

61% reported that their facilities did not use safety scalpels

50% had not been able to find an acceptable safety scalpel model
A MediPurpose survey at the American College of Surgeons' (ACS) Clinical Congress in Washington, DC., yielded similar results: 65% of surgeons said that their facility did not use safety scalpels—and 76% said they would use safety scalpels if they were available.
Click here for more details about the ASCA survey and here for more details about the ACS survey.
---
1 Jagger J, Berguer R, Phillips EK, et al. Increase in Sharps Injuries in Surgical Settings Versus Nonsurgical Settings After Passage of National Needlestick Legislation. J Am Coll Surg; 210(4):496-502.
2 Stoker RL, Davis MS. The Economic Argument for Using Safety Scalpels. The Surgical Technologist, September 2015:401-406.